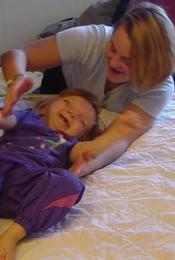 Elizabeth Kuegeler
Adelgundenstr. 31
90419 Nürnberg
Phone: (911) 322-6352
E-mail: elizabeth@kuegeler.net
---
Elizabeth Kuegeler is an ASHA certified
SLP
who lives in the Nürnberg area. She has committed herself to helping those with communication difficulties overcome their challenges to live to their fullest potential.


Communication challenges can leave an individual frustrated, embarrassed, withdrawn, or even socially isolated. They can cause a child to fail academically, or to act out behaviorally because he has no other way to communicate. They can cause an adult to avoid interaction with others, whether they be colleagues, friends, or even spouses. When communication difficulties are addressed early and effectively, one can overcome them and live life to its fullest. Elizabeth's services help an individual to overcome these challenges, to meet his or her highest potential and to learn that

communication is power

!

Mission statement
: Elizabeth Kuegeler seeks to provide the English-speaking community of Nuernberg and the surrounding area with high quality speech-language services in order to help those individuals reach their fullest potential. A child who speaks English in Germany should be able to receive services from a native English speaking speech-language therapist who has been educated and has experience in English language development and therapy approaches.
Elizabeth also strives to provide quality services to those who are interested to improve their overall English communication skills or modify their pronunciation to Standard American English in order to help others be effective communicators in the English language.